Invitation
Dear Mr./Ms.______________________,
Rapid development of large-scale swine production in China
China is recognized as one of the world's biggest pork-producing countries. With the rapid development of Chinese economy, the mass production of hog has been significantly accelerated and the trend in Chinese hog production is towards large-scale integrated units. The continuous upgrade of China's feed industry will certainly advance the development of China's pork production system. Eventually, China will realize the change from a big country to a powerful country in feed industry.
Integrating worldwide nutrition technology, driving China pork industry innovation
In order to keep up with industry trends and to achieve a common interest of production efficiency and profitability for swine operations, we need to bring the world's top scientists together to solve the most important issues facing Chinese swine production to create breakthroughs and generate new perspectives and ideas. This is our mission.
Swine Industry Symposium
Swine Industry Symposium is organized by ASAS' Country Representative-China in order to invite the world leading animal scientists to create a platform to bring the up-to-date knowledge and technology to Chinese swine industry. The 2012, 2014 and 2016 Swine Industry Symposiums were successful meetings and have brought a lot valuable information to the industry.
Swine Industry Symposium 2018
The coming 2018 Swine Industry Symposium will keep the same objectives to be informative, professional, and practical to help our leaders in the industry to find ideas and solutions. This year, we also have an impressive roster of invited speakers, representing America, Europe and Asia. This would be a top-ranked symposium in our industry.
1. Registration Fees (Waiting update)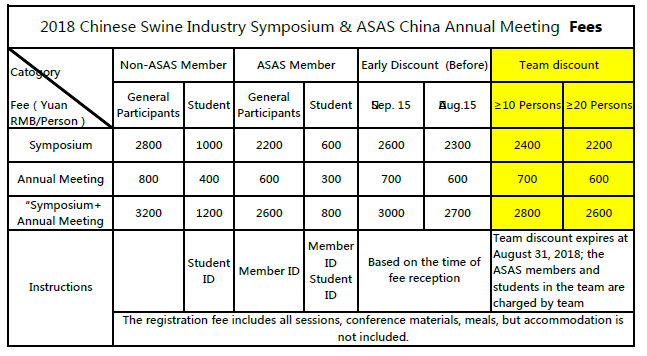 Note: The registration fee includes all sessions, conference materials, meals, but accommodation is not included.
2. Where and how to register
A. Wechat Regsitration
Pay attention to the forum micro-signal asaschina, click on "2018CSIS" - "Registration", select "Conference Registration Payment" or "ASAS Member Registration".
B.On-site registration
Onsite registration is at the registration counter during the symposium but subject to availability
3. Account information
To meet the demand of different participants, the symposium organizing committee provides both corporate account and wechat platform for the remittance of registration fees.
█ Corporate account
Beneficiary:Shanghai Gentech Industries Group Co.,Ltd.
Bank:Bank of China, Shanghai Branch, Jiuting sub-branch
Account:4377 5922 5138